Canine Corner and Cats Too! specializes in a comfortable, relaxing stay for all your beloved pets. Our kitty condos are the perfect place for your feline friends to take their own vacation while you are enjoying yours.
A Relaxing Place for your Cat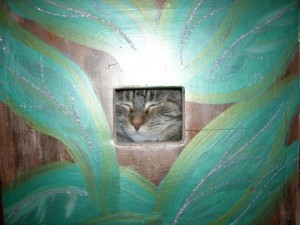 We understand the special place your pets hold in your heart, and we treat each visiting pet like our own. Our kitty condos are outfitted especially for an adventurous cat's needs so they can jump, play and explore or simply curl up for a nice nap. Shelves and cat trees of varying heights challenge cats' climbing prowess and provide the perfect place to watch the world from the top. Your cat can be king or queen of their own domain while you're away while also receiving the love and attention they need. We pet and play with each one of our lovable visitors to assure they will never be lonely or bored.
You will never have to worry about your furry friend while you're away. Book for a day, a week or longer and bring your whole kitty clan for special discounts. Contact us today to schedule cat boarding in Cedar Rapids, IA at your convenience.
Drop Off/Pick Up Times
Monday thru Saturday
7am-10am and 3pm-6pm
Sundays
3pm-6pm
NO DROP OFF/PICK UP
ON MAJOR HOLIDAYS
Required Vaccinations
DHLPP (1 yr or 3 yr)
FELINE DISTEMPER (1 yr)
FELINE RABIES (1yr)
Proof of current vaccinations from your vet can be emailed directly to us. k9corner@imonmail.com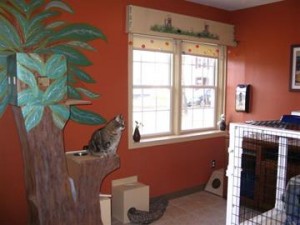 Several condo options are available, each with room for bedding and/or their own carrier to sleep in. All condos have resting benches at varying heights for exercise and cat napping. A litter box and litter is provided.
Investigating of new territory outside of the individual condo is optional on a one on one basis at the discretion of the kennel owner. This is reserved for the most cooperating of kitties.
Here's what to pack for your cat's stay!
Cat food (in an airtight container)
Treats (optional)
Toys (limit 2)Happy Cat at Canine Corner & Cats Too!
Carrier/ bedding/small blanket
Vaccination papers (if haven't been emailed by veterinarian)
Monthly flea prevention is required for all cats.
Please feel free to call or stop in for additional information. 319-366-3284